Abe Rein Serves on Two Panel Discussions at Data Privacy and Cybersecurity Forum on April 6 -7 in San Francisco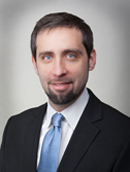 On April 6 and 7, Abraham J. Rein, Co-Chair of the Firm's Information Privacy & Security Practice Group, was part of two separate panel discussions at Today's General Counsel's Data Privacy and Cybersecurity Forum in San Francisco.
On April 6, Mr. Rein served on the panel, "Avoiding Lightning in the Cloud and Addressing New Threats." The panel examined cloud-related cybersecurity issues, including data commingling, data transfer issues, assessing data privacy considerations, and export control and economic sanction issues. The panel will also look at the unique cybersecurity and privacy risks associated with Internet of Things (IoT) devices and distributed denial-of-service (DDoS) attacks.
On April 7, Mr. Rein served on the panel, "Regulatory Enforcement and Regulator's Perspectives," examining the authority of regulators, including the Federal Trade Commission (FTC), the Federal Communications Commission (FCC), and the U.S. Department of Health and Human Services (HHS) in data privacy and cybersecurity issues. The panel also discussed the recent financial services Cybersecurity Regulation instituted by the New York Department of Financial Services.