Heather A. Tereshko Rejoins Post & Schell as a Principal in the Firm's Professional Liability Department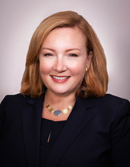 Philadelphia, PA – August 27, 2019 – Post & Schell, P.C. is pleased to announce that Heather A. Tereshko has rejoined the Firm as a Principal in its Professional Liability Department in its Philadelphia, PA office.
Ms. Tereshko previously served as an Associate with the Firm from 2003 through 2012. She returns to Post & Schell with a practice defending clients in litigation involving claims of alleged malpractice resulting in catastrophic injuries with significant liability and damage exposure. She also provides risk and exposure analysis and strategic advice on defending claims of professional negligence and malpractice. Her clients include physicians, nurses, and nurse practitioners, as well as hospitals and several major health systems in the Philadelphia region.
Ms. Tereshko's more than 17 years as an attorney includes first-chair and second-chair jury trial and arbitration experience, in addition to significant mediation and deposition experience. She has successfully defended clients in claims involving failure to diagnose, negligent performance of surgery, and failure to timely treat medical conditions, among others.
"I join all of Post & Schell in welcoming Heather back to the firm, where she began her legal career," said A. James Johnston, President & Chief Executive Officer of Post & Schell, P.C. "Heather strengthens a growing area of our firm that serves one of our core client industries. We continue to see strong demand among our healthcare clients for malpractice and professional liability defense and experienced litigators."
Following her first tenure at Post & Schell, Ms. Tereshko was a trial attorney with the law firm of Christie & Young PC from 2012 through 2016. Most recently, she served as Special Counsel with the law firm of Marshall Dennehey Warner Coleman & Goggin, P.C. since 2016.
"I am excited to rejoin Post & Schell and so many of the colleagues I have worked with in the past," said Ms. Tereshko. "The firm's Professional Liability Department and attorneys are renowned in the region and I look forward to continuing and growing that reputation."
About Post & Schell, P.C.
For over 50 years, Post & Schell, P.C. has been committed to defining, measuring and achieving legal excellence. We provide sophisticated legal services and strategic counseling to highly regulated industries and their directors, officers, and stakeholders regionally and nationally. Our attorneys provide our clients with problem-solving and efficient representation in transactional, litigation, regulatory, compliance, corporate, and public policy matters.

With offices in Philadelphia, Pittsburgh, Harrisburg, Lancaster, Allentown, Mt. Laurel, NJ, and Washington, D.C., our attorneys represent industries in a variety of venues and geographic markets.