Joe Bongiovanni Presents on Emerging Legal Trends at DRI's Annual Personal Injury Practicum on Nov. 9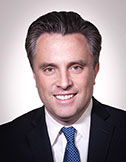 Casualty Principal Joseph N. Bongiovanni, IV presented, "Update of New Cases and Emerging Legal Trends," at the Dispute Resolution Institute's (DRI) Personal Injury Practicum CLE in Philadelphia, PA on November 9, 2017.
Mr. Bongiovanni's presentation provided a review of recent case law and takeaways for practical use and application for attendees. He also looked at emerging legal trends in Pennsylvania general liability cases and the impact on practitioners.