Joseph N. Bongiovanni, IV Joins Post & Schell as a Principal in Casualty and Professional Liability Practices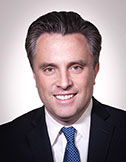 Philadelphia, PA – April 26, 2017 – Post & Schell, P.C. today announced that Joseph N. Bongiovanni, IV has joined the Firm as a Principal in its Casualty Litigation and Professional Liability Practices. In addition, Mariel C. Marsh and Lauren E. Pezor have joined the Firm as Associates in the same practice groups.
Bongiovanni represents clients in complex litigation including claims involving medical malpractice, professional liability, premises liability, and products liability. In addition to representing self-insured clients in the health care, life sciences, manufacturing, and pharmaceutical sectors, he also represents clients via insurance carriers and third-party administrators (TPA). Licensed to practice in both Pennsylvania and New Jersey, he serves clients in both states.
"Joe, Mariel, and Lauren bring strong and diverse practices to Post & Schell," said A. James Johnston, President and CEO of Post & Schell, P.C. "Their experience in both general liability and professional liability/medical malpractice matters fits well into two of the Firm's established groups and their addition immediately strengthens both areas. Their addition is also consistent with our goal to add lateral attorneys in strategic areas of focus for Post & Schell."
"Joining Post & Schell will allow me to focus on growing my existing practice," said Bongiovanni. "The Firm also offers my client base an expanded roster of attorneys and practices that will be beneficial to them. I am grateful for this opportunity to work with such a talented group of lawyers."
Bongiovanni joins the Firm from Fowler, Hirtzel, McNulty & Spaulding, LLP, where he served as a Partner and prior to that was with Marks, O'Neill, O'Brien & Courtney P.C. for over 11 years. He is a 2001 graduate of Temple University's James E. Beasley School of Law and a 1995 graduate of the University of Pennsylvania. He has been named a Pennsylvania Super Lawyer since 2014.
Marsh is a 2007 graduate of the Syracuse University College of Law and holds a B.A. degree in Political Science from the State University of New York at Geneseo. She has been named to Pennsylvania Super Lawyers – Rising Stars since 2013. Pezor graduated from Syracuse University College of Law in 2015, and holds a B.A. in History from Colgate University.
About Post & Schell, P.C.
Post & Schell, P.C. is committed to defining, measuring and achieving legal excellence. We provide sophisticated legal services and strategic counseling to highly regulated industries and their directors, officers, and stakeholders regionally and nationally. Our attorneys provide our clients with problem-solving and efficient representation in transactional, litigation, regulatory, compliance, corporate, and public policy matters.
With offices in Washington, D.C., Philadelphia, Pittsburgh, Princeton, NJ, Harrisburg, Lancaster, and Allentown, PA, our attorneys represent industries in a variety of venues and geographic markets.