Mason Avrigian, Jr. and Jeffrey P. Wallack Join Post & Schell as Principals in Construction Practice Group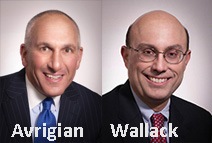 Philadelphia, PA – February 13, 2017 – Post & Schell, P.C. today announced that Mason Avrigian, Jr. and Jeffrey P. Wallack have joined as Principals in its Construction, Government Contracts & Surety Law Practice Group, resident in the Firm's Philadelphia office.

Mr. Avrigian and Mr. Wallack bring to Post & Schell a regional practice representing owners, contractors, subcontractors, material producers, and other varied parties involved in commercial and public works' construction projects. This includes counsel regarding construction contracts, bidding issues, claims, liens, and representation in related litigation, arbitration and dispute resolution.

"Mason's and Jeff's arrival increases the Firm's presence in the commercial and public works' construction industry, and builds on our existing construction practice in the Mid-Atlantic region," said A. James Johnston, President & CEO of Post & Schell, P.C. "We are seeing an increase in commercial and public construction projects in the region and along with it a corresponding increase in demand for legal services."
Both attorneys join the Firm from Wisler Pearlstine, LLP, where they served as Partners in the Firm's Construction Law and Litigation Practice. Paralegal Carol Pronzato will also join Post & Schell from Wisler Pearlstine and the Firm will look to hire a mid-level Associate to support their practice. Mr. Avrigian and Mr. Wallack noted that joining Post & Schell would allow them to expand their existing practice, while also giving their clients access to a wide range of legal services.
"We are excited to join Post & Schell at a time of great potential for the commercial and public works' construction industry," said Mr. Avrigian and Mr. Wallack. "The Firm's presence in the Mid-Atlantic region will allow us to better serve our existing clients and expand our practice, while also helping the Firm to continue its growth and diversification."
Mr. Avrigian has represented contractors, subcontractors, and parties in the public works' and commercial construction industry for over 25 years, including advice and consultation on contractual, bidding and project issues, as well as representation in litigation, arbitration and mediation. He has substantial experience in matters involving general construction, heavy highway construction, and utility construction. Before joining Wisler Pearlstine, Mr. Avrigian was an attorney in the construction law practice group at Pepper Hamilton LLP. He is a 1987 graduate of Villanova University School of Law and graduated cum laude from Muhlenberg College in 1984.
Mr. Wallack represents owners, general contractors, and specialty subcontractors in commercial construction and public works' matters, from contract drafting through bid disputes, to project completion. He also represents them in related claims submission and dispute resolution, including mediation, arbitration and litigation. His clients range from individuals and closely held local businesses, to national corporations. Prior to joining Wisler Pearlstine, he was an attorney with the law firm of Drinker Biddle & Reath, LLP. He is a 1993 graduate of the University of Pennsylvania School of Law, and a 1990 graduate of Princeton University.
About Post & Schell, P.C.
Post & Schell, P.C. is committed to defining, measuring and achieving legal excellence. We provide sophisticated legal services and strategic counseling to highly regulated industries and their directors, officers, and stakeholders regionally and nationally. Our attorneys provide our clients with problem-solving and efficient representation in transactional, litigation, regulatory, compliance, corporate, and public policy matters.

With offices in Washington, D.C., Philadelphia, Pittsburgh, Princeton, NJ, Harrisburg, Lancaster, and Allentown, PA, our attorneys represent industries in a variety of venues and geographic markets.