Mission Kids CEO Abbie Newman Speaks at Post & Schell's Annual Women's History Month Reception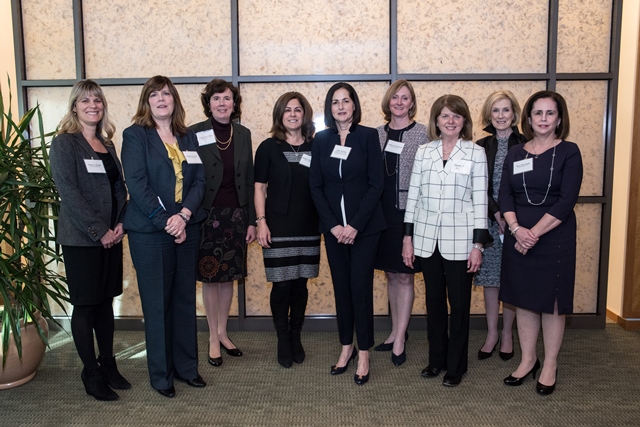 Mission Kids CEO Abbie Newman with several of Post & Schell's women Principals prior to the Firm's Women's History Month reception on March 22, 2018
From Left to Right: Stacey M. Zavalas, Kathleen K. Kerns, Robin Locke Nagele, Amalia V. Romanowicz, Ms. Newman, Lindsay B. Andreuzzi, Kathleen Chancler, Patrice A. Toland, Mary Ellen Reilly.
Philadelphia, PA - March 27, 2018 - Abbie R. Newman, R.N, J.D, Chief Executive Officer of Mission Kids Child Advocacy Center, discussed justice for victims of child abuse and her career path in her remarks to attendees at Post & Schell's reception celebrating Women's History Month on Thursday, March 22, 2017.
The annual event, held in Post & Schell's Philadelphia conference center, honors and celebrates the contributions of women throughout history and in contemporary society. Each year an honored guest speaker provides attendees with a unique perspective on their professional journey and lessons for other women professionals. This year's event was attended by clients, attorneys, business leaders, and friends of the Firm.
Abbie began her professional career as a registered nurse specializing in pediatrics before obtaining her law degree in 1986. After a career as a medical malpractice attorney as a Principal at Post & Schell, she left the practice of law in 2005 to pursue non-profit work and in 2008 became the founding Executive Director of Mission Kids Child Advocacy Center (CAC) of Montgomery County.
She continues in the role of CEO and brings the leadership of Mission Kids statewide, nationally, and internationally advocating for the rights of victims of child abuse.
To learn more about Mission Kids visit: www.missionkidscac.org