Federal District Court Issues Order That Could Discourage Use of EMTALA as a Federal Medical Malpractice Statute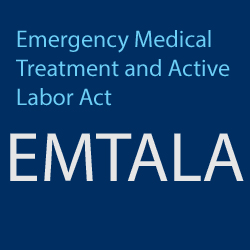 Suburban hospitals have seen an uptick in medical malpractice litigation alleging claims under the Emergency Medical Treatment and Active Labor Act (EMTALA) and asserting federal jurisdiction. For serious malpractice cases involving obstetrical or emergency care, Pennsylvania plaintiff's lawyers have apparently concluded that they would rather select from a federal jury pool than face the more conservative jurors typically found in suburban county courts.
Such cases generally recast state-law claims for breach of the standard of care as EMTALA "screening" or "stabilization" violations. In some recent cases, this has proved to be a successful approach for obtaining federal court jurisdiction. However, on November 24, 2014, the United States District Court for the Eastern District of Pennsylvania issued an Order in the case of Moore v. Grand View Hospital (No. 13-2384), a case handled by Post & Schell attorneys, which may influence the plaintiff's bar and discourage the inappropriate use of EMTALA as a federal medical malpractice statute.
EMTALA
EMTALA is a federal "anti-patient dumping" statute which requires hospitals to have procedures in place to insure that all patients who present to the Emergency Department or Labor and Delivery Department, regardless of their economic status, receive uniform and appropriate medical screening examinations to determine whether an emergency medical condition exists. The statute further provides that if a patient has an emergent medical condition, the hospital must stabilize the condition prior to transferring or discharging the patient.
The Case
The plaintiffs filed a Complaint in federal court alleging negligent obstetric care rendered which resulted in the delivery of a non-viable female. The plaintiffs maintained that the hospital violated EMTALA when it "failed to screen" the plaintiff for preeclampsia, and "failed to stabilize" her known and documented non-reassuring fetal heart rate pattern and gestational hypertension prior to discharge. They also alleged that the Hospital's failure to screen and stabilize the plaintiff placed her and her baby's health at risk.
After extensive discovery was conducted and expert reports were exchanged, the defendant Hospital filed a Motion for Partial Summary Judgment seeking to dismiss plaintiffs' EMTALA claims, and remand the matter to State Court, as the evidentiary record did not support a viable claim under the "screening" or "stabilization" provisions of EMTALA. The Hospital argued that despite plaintiffs' claims, this case was a traditional medical negligence matter. Further, the evidence demonstrated that in compliance with EMTALA, the Hospital's standard screening procedures were followed with respect to the plaintiff. As a result of the examination conducted, the plaintiff's obstetrician, exercising his professional judgment, concluded that she did not have an emergency medical condition, no further diagnostic testing or treatment was required, and discharge was appropriate. The Motion further argued that since there was no identified emergency prior to discharge, the stabilization requirement under EMTALA was not triggered.
The Ruling
The Honorable Petrese B. Tucker, Chief Judge, granted defendant's Motion for Partial Summary Judgment, dismissed plaintiffs' EMTALA claims, and remanded the medical malpractice case to the Bucks County Court of Common Pleas, where it belonged.
Chief Judge Tucker ruled that there was no issue of material fact supporting the EMTALA cause of action of failure to appropriately screen Mrs. Moore. Specifically, the Court, relying on an Affidavit from the Hospital's Director of Maternal & Child Health, and the contemporaneous medical records, concluded, as a matter of law, that the hospital's standard screening procedures were followed. Further, the Court dismissed plaintiffs' EMTALA stabilization claim as the record presented did not support a finding that anyone at the hospital believed or had actual knowledge that Mrs. Moore presented to the hospital with a medical emergency.
The Court held that while plaintiffs may challenge an obstetrician's exercise of medical judgment in state-court malpractice litigation, such alleged failure does not translate into a federal EMTALA cause of action for alleged inadequate "screening."
Chief Judge Tucker's recent ruling, which is consistent with the intent of the EMTALA statute and in line with long-standing judicial precedent that EMTALA was never intended to federalize malpractice cases, is a significant victory for suburban hospitals, and hopefully will give plaintiff's lawyers pause before pursuing a medical malpractice claim in federal court.
If you have questions regarding this ruling, contact Professional Liability Defense Chair Donald N. Camhi at dcamhi@postschell.com, Associate Marcie A. Courtney at mcourtney@postschell.com or Health Care Principal Robin Locke Nagele at rnagele@postschell.com.