Patrice "Puddy" Toland Honored with the Martha J. Hampton Award by the Philadelphia Bar Association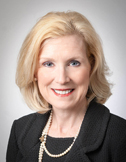 Philadelphia, PA – May 3, 2019 – Post & Schell, P.C. Principal Patrice "Puddy" Toland was recently honored by the Philadelphia Bar Association's Workers' Compensation Section with the 2019 Martha J. Hampton Award. The annual award is named in honor of the late attorney Martha J. Hampton and recognizes an attorney or judge who best exemplifies those qualities which were important to Ms. Hampton – including dedication to the law, compassion, professionalism, scholarship, and goodwill.
Ms. Toland was honored with the award on Friday, May 3, 2019 at the Philadelphia Bar Association Worker's Compensation Section's Award Luncheon. The luncheon was held at the Society Hill Sheraton in Philadelphia.
"The qualities that this prestigious award celebrates apply perfectly to Puddy Toland," said A. James Johnston, President & CEO of Post & Schell "We are proud that the larger legal community continues to recognize her for her contributions to the profession and the positive impact she has on those she encounters each day."
"I am extremely honored to receive this award, named for someone I knew and held in high regard for her professionalism and positive influence she had on those around her," said Ms. Toland. "I am grateful to the Section for choosing to recognize me, to the attorneys in the workers ' compensation bar, and of course to all my friends and colleagues at Post & Schell."
A Principal in the Firm's Workers' Compensation Department, Ms. Toland dedicates her practice to the defense of insurers and employers in workers' compensation cases in Pennsylvania. In addition to litigating claims, she assists her clients in developing best practices to prevent liability and to reach favorable resolutions when necessary. She is one of the leaders of Post & Schell's internal women's group dedicated to the development and advancement of women attorneys, The Women of Post & Schell.
In 2018, The Legal Intelligencer named Ms. Toland a "Top Law Firm Mentor" for the positive impact she has on her colleagues at Post & Schell, as well as the judges, claimants' attorneys, and other professionals she has impacted throughout her career.

About Post & Schell, P.C.
For over 50 years, Post & Schell has provided sophisticated legal services and strategic counseling to highly regulated industries and their directors, officers, and stakeholders regionally and nationally. Our attorneys provide our clients with problem-solving and efficient representation in transactional, litigation, regulatory, compliance, corporate, and public policy matters.

With offices in Washington, D.C., NJ, and Philadelphia, Pittsburgh, Harrisburg, Lancaster, and Allentown, PA, our attorneys represent industries in a variety of venues and geographic markets.