Patrice "Puddy" Toland Selected as a 2018 Best Law Firm Mentor by The Legal Intelligencer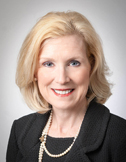 Philadelphia, PA – May 2, 2018 – Post & Schell Principal Patrice "Puddy" Toland has been selected by The Legal Intelligencer as a 2018 "Best Law Firm Mentor." The award honors attorneys who have taken it upon themselves to prepare the next generation of legal talent, providing valuable knowledge to younger attorneys and paving the way for advancement.
Ms. Toland will be formally honored at an awards dinner on June 27, 2018 at the Crystal Tea Room in Philadelphia, PA. She will also be featured in a Professional Excellence supplement in The Legal Intelligencer on June 12, 2018.
"We are extremely proud that Puddy's hard work and collaborative spirit has been recognized with this award," said A. James Johnston, President & Chief Executive Officer of Post & Schell, P.C. "The success of our firm, and the broader legal industry, depends on attorneys like Puddy who commit to mentoring the next generation of professionals. Throughout her legal career, she has helped guide the successful careers of lawyers with Post & Schell and in the legal industry. She is more than deserving of this honor."
Ms. Toland has provided valuable insight to countless attorneys throughout her tenure at Post & Schell and her 40+ year legal career, helping to mentor associates across the Firm's practice areas and clients. This includes providing them the benefit of her legal experience and advising them on professional and ethical interactions with the judiciary, their colleagues, the claimant's bar, and clients. She is also one of the leaders of the Firm's internal women's group dedicated to the development and advancement of women attorneys, The Women of Post & Schell.
A Principal in the Firm's Workers' Compensation Department, Ms. Toland dedicates her practice to the defense of employers in workers' compensation cases in Pennsylvania. In addition to litigating claims, she assists her clients in developing best practices to prevent liability and to reach favorable resolutions when necessary.
About Post & Schell, P.C.
For 50 years, Post & Schell, P.C. has provided sophisticated legal services and strategic counseling to highly regulated industries and their directors, officers, and stakeholders regionally and nationally. Our attorneys provide our clients with problem-solving and efficient representation in transactional, litigation, regulatory, compliance, corporate, and public policy matters.

With offices in Washington, D.C., Philadelphia, Pittsburgh, Princeton, NJ, Harrisburg, Lancaster, and Allentown, PA, our attorneys represent industries in a variety of venues and geographic markets.