Paula Sanders and Cynthia Haines Present on Compliance Expectations for Health Care Boards of Directors at ACHCA's Winter Marketplace on Dec. 5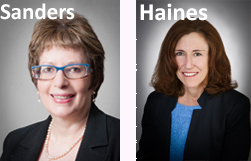 Health Care Chair Paula G. Sanders and Principal Cynthia A. Haines presented, "Understanding Compliance Responsibilities: What the OIG Thinks Your Board Needs to Know," on December 5 at the American College of Health Care Administrators' (ACHCA) 22nd Annual Winter Marketplace in Las Vegas, NV.
On April 20, 2015, the Office of Inspector General (OIG) issued very strong guidance about what it believes health care boards of directors need to be doing about compliance. Ms. Sanders and Ms. Haines explored the OIG's expectations about effective board governance, including frequent compliance trainings and reviews of relevant Corporate Integrity Agreements (CIAs), risk analysis, and compliance oversight.
Founded in 1962, ACHCA is the only professional association devoted solely to meeting the professional needs of today's post-acute and aging services leaders. Focused on advancing leadership excellence, ACHCA provides professional education and certification to administrators from across the spectrum of long-term care.