Post & Schell Adds Pennsylvania's Leading Medicaid Attorney as Principal in Health Care Group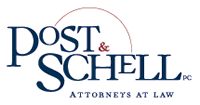 Mary Frances "Fran" Grabowski Served as Deputy Chief Counsel for the Pennsylvania Governor's Office of General Counsel, Department of Public Welfare, and Brings Extensive Knowledge of Public Policy, Medicaid and Affordable Care Act to the Firm's Health Care Client Base
PHILADELPHIA – April 22, 2013 – Post & Schell, P.C., a leading multi-disciplinary law firm, today announced that Mary Frances "Fran" Grabowski has joined the firm's Health Care Practice Group as a principal. Ms. Grabowski most recently served as Deputy Chief Counsel for the Pennsylvania Governor's Office of General Counsel, Department of Public Welfare, and was the Commonwealth's senior Medicaid attorney.
Over a 35 year career in health care law, Ms. Grabowski has advised senior management teams on a wide variety of issues relating to federal and state Medicaid statutes, regulations and policies; health care reform; provider fraud and abuse; provider reimbursement; and administrative law. She has breadth and depth of knowledge in health care law and will counsel Post & Schell's clients on legislative and regulatory matters around Medicaid provisions, including the requirements of the Patient Protection and Affordable Care Act (PPACA), policy statements and other Medicaid policy initiatives.
"In today's health care environment, critical state and federal issues related to Medicaid eligibility and expansion are front and center," said Brian Peters, president and chief executive officer of Post & Schell. "Fran's experience and regulatory acumen will prove invaluable to the firm's health care clients that turn to us for that specialized counsel. She enjoys a superb professional reputation for her knowledge in this field, and we are thrilled to welcome her passion and public welfare expertise to our firm." As the newest member of Post & Schell's Health Care Practice Group, Ms. Grabowski joins a distinguished team of multi-disciplinary attorneys who provide representation for a broad range of health care stakeholders nationwide. This includes providing guidance on regulatory compliance and government inquiries, business matters, or representation in litigation and appeals.
"I knew that if I ever elected to leave state government, it would need to be for a firm that consistently demonstrated a commitment to addressing and resolving the broad spectrum of critical issues that impact today's transitive health care landscape," said Ms. Grabowski. "Post & Schell's Health Care Practice Group has a proven track record of not only providing their clients with tireless dedication and sound judgment, but also serving to impact those far-reaching issues on the national stage."
During an accomplished career in state government, Ms. Grabowski advised and represented the Department of Public Welfare in federal and state courts, and administrative tribunals in litigation involving the Pennsylvania Medical Assistance Program. In addition, she drafted and reviewed legislation, regulations, Medicaid state plan provisions, policy statements, notices and other documents related to policy initiatives. She has also served as lead counsel assigned to advise and represent the Department of Public Welfare, and to supervise staff counsel on a wide variety of matters involving the Medical Assistance Program, including provider health-care related taxes, federal funding initiatives, hospital and long-term living services, program integrity, and provider fraud and abuse.
She is a frequent presenter to regional and national audiences, and is admitted to practice before the U.S. Supreme Court, the U.S. Court of Appeals for the Third Circuit, the U.S. District Court for the Middle District of Pennsylvania and the Supreme Court of Pennsylvania. Ms. Grabowski earned a Bachelor of Arts degree from Marywood College, and Doctor of Jurisprudence degree from the Dickinson School of Law.