Post & Schell Secures Dismissal of Client in Force-Placed Fire Insurance Dispute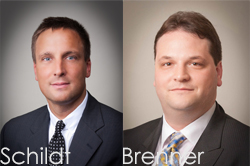 In Conquest v. American Modern Home et al., 2017 U.S. Dist. LEXIS 47463 (E.D. Pa. Mar. 29, 2017), co-defendants WMC Mortgage Corporation, Southwest Business Corporation, Vanderbilt Mortgage and Finance, Inc., and MERS, Inc. (the mortgage defendants) had purchased a force-placed fire insurance policy from American Modern Home, insuring Plaintiff's home to protect their financial interest in the property. Plaintiff had been warned numerous times by the mortgage defendants that pursuant to their contractual agreements, Plaintiff had to purchase such a policy, and if he did not, the mortgage defendants would purchase the fire insurance for him, naming Vanderbilt Mortgage and Finance, Inc. as the named insured.
American Modern was represented by Insurance Law Principal Steven J. Schildt and Associate Jeffrey M. Brenner.
An electrical fire eventually destroyed the property and American Modern Home paid the benefits due under the policy to the mortgage defendants, not Plaintiff because Plaintiff was not an insured under the policy. Plaintiff brought suit against the mortgage defendants and American Modern Home alleging bad faith, breach of fiduciary duty, civil conspiracy, breach of contract, and unjust enrichment.
With respect to Plaintiff's bad faith, breach of fiduciary duty and breach of contract claims, Judge Slomsky of the United States District Court for the Eastern District of Pennsylvania noted that there was no contractual privity between Plaintiff and American Modern Home as the policy was taken out by the mortgage defendants, naming themselves as insureds to protect their financial interests in the property – not Plaintiff's. With respect to Plaintiff's civil conspiracy claim, Judge Slomsky noted Plaintiff failed to demonstrate that American Modern Home acted with the intent to injure as American Modern Home simply did what it was contractually obligated to do – to pay the insurance proceeds to the mortgage defendants, not Plaintiff. Finally, with respect to Plaintiff's claim of unjust enrichment, Judge Slomsky noted that American Modern Home was not unjustly enriched as it simply accepted policy premiums for insurance coverage, which it provided. The full 43 page opinion can be found here.