Post & Schell's Energy Compliance Practice Group Authors Article Examining FERC and CFTC Enforcement of Energy Market Manipulation Rules for Public Utilities Fortnightly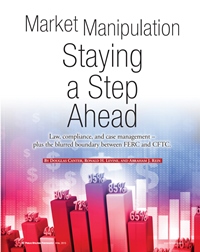 Ronald H. Levine, Douglas Canter, and Abraham J. Rein, from the Firm's Energy Compliance Practice Group, recently authored the article, "Market Manipulation: Staying a Step Ahead," for the April 2015 issue of Public Utilities Fortnightly.
The article examines U.S. Federal Energy Regulatory Commission's (FERC) policing of fraud and market manipulation in energy markets, and notes that, "between 2007 and the end of 2014...FERC assessed civil penalties of $602 million and ordered disgorgement totaling almost $300 million."
Given the potential of multimillion dollar exposure for energy companies, the article examines four key areas:
Case Law. Background on FERC's evolving market manipulation law and an explanation of the legal risks and exposure, including the Securities and Exchange Commission (SEC) case law precedent on which FERC relies.
Compliance Tips. Practical compliance tips for businesses, boards of directors and managers for minimizing the risk of FERC market manipulation allegations.
Jurisdictional Conflicts. An examination of the ongoing jurisdictional ambiguity between FERC and the Commodities Future Trading Commission (CFTC), with ramifications for persons targeted by a FERC investigation.
How to Respond. What to do should FERC or the CFTC initiate an investigation.