U.S. District Court Excludes Testimony of Plaintiff's Expert, Awards Summary Judgment to Royal Oak Enterprises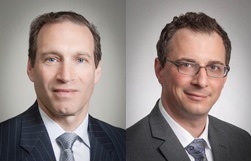 Post & Schell, P.C. today announced that summary judgment was secured by the Firm on behalf of client Royal Oak Enterprises in a products liability case. The ruling by the U.S. District Court for the Eastern District of Pa. was preceded by the Court granting a Daubert motion that eliminated the testimony of the Plaintiff's expert witness. Royal Oak was represented by Post & Schell Principal Daniel S. Altschuler and Associate Robert J. Balch.
The case, Curry v. Royal Oak Enterprises and Brinkmann, involved a claim of injury that resulted from the lighting of a charcoal smoker manufactured by the co-defendant in the case. The Plaintiff alleged that in the process of lighting the smoker using charcoal briquettes and lighter fluid manufactured by Royal Oak, a flash fire resulted that caused burns to her face, head, and arms. The Plaintiff offered a chemist as an expert witness who testified that all of the products involved were defective due to insufficient warnings.
Post & Schell filed a Daubert motion, challenging the admissibility of the Plaintiff's expert witness testimony based on his qualifications, as well as the methodology used in determining the Defendant's liability in the Plaintiff's injuries.
In awarding Royal Oak's and the co-defendant's Daubert motions, U.S. District Court Judge Jan E. DuBois noted that, "the Plaintiff's proposed expert is not qualified…to testify at trial on the issue of inadequate warning labels," and, "his opinion does not satisfy Daubert's reliability requirement."
As a result of the expert testimony being eliminated, the Court awarded Royal Oak and the co-defendant summary judgment, noting that, "the Plaintiff can only establish liability through the use of expert evidence."
Click here for information about Post & Schell's Casualty Litigation Department