City of Pittsburgh's Paid Sick Days Act Mandating Employers Provide Employees Paid Sick Time Becomes Effective March 15, 2020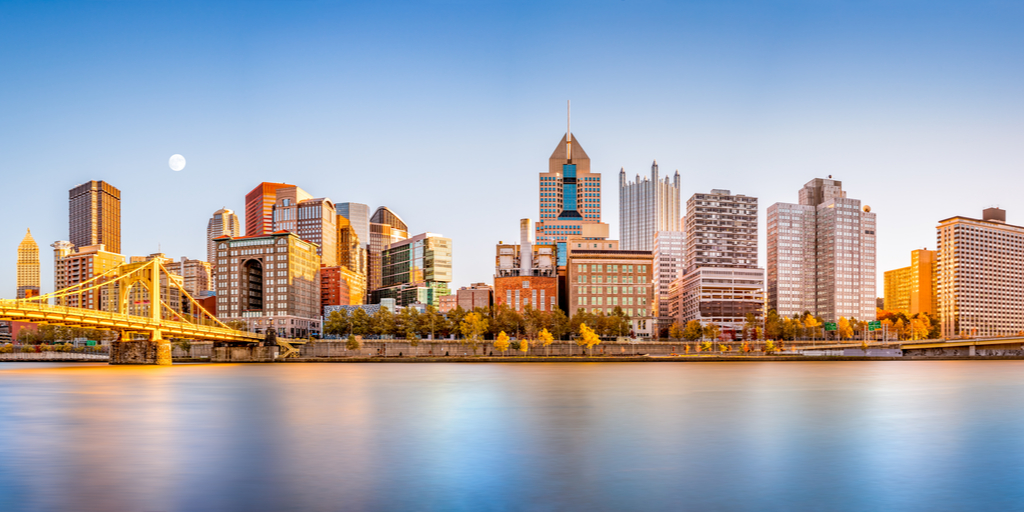 As Pittsburgh employers may recall, in 2015 the Pittsburgh City Council passed, and Mayor William Peduto signed, the Pittsburgh Paid Sick Days Act (the "PSDA"), which was set to become effective on January 11, 2016. However, prior to the PSDA's effective date, the Allegheny County Court of Common Pleas considered legal challenges to the PSDA and struck down the PSDA as impermissible. The Pennsylvania Commonwealth Court affirmed the trial court's decision, but over the summer of 2019, the Pennsylvania Supreme Court reversed both lower court decisions and held that the PSDA was not impermissible. However, it also deferred to the Pittsburgh's Mayor's Office of Equity, the entity charged with administering and enforcing the PSDA, to set an effective date for the Act.
Nearly five months after the Supreme Court's ruling, on December 16, 2019, the Pittsburgh's Mayor's Office of Equity published official guidelines for administering the PSDA, and stated that the PSDA will become effective on March 15, 2020. While March 15th may seem like a long way off, Pittsburgh employers should begin preparing now for the PSDA's effective date.
What is the PSDA?
Generally, the PSDA requires all employers of employees within the city limits of Pittsburgh to provide paid sick leave to all full- and part-time employees.
Employers with 15 or more employees must provide paid sick leave, up to 40 hours (i.e., 5 days) per year, at a rate of 1 hour of leave for every 35 hours worked within the geographic boundaries of the City of Pittsburgh.
Employers with less than 15 employees must also provide paid sick leave at the same accrual rate, but only up to 24 hours (i.e., 3 days) per year.
Moreover, covered employees may begin using accrued sick time after they have been employed for at least 90 days.
These accrual amounts and rates are just the required minimums and employers may allow employees to accrue paid sick time at greater amounts or faster rates.
Notably, the PSDA does not cover state and federal employees, any member of a construction union covered by a collective bargaining agreement, or "seasonal employees" – which is defined as an individual employed for 16 weeks or fewer who has been notified in writing at the time of hire of the start and end dates of the employer's seasonal period.
With one exception, employees must be permitted to "roll over" accrued, unused sick time to the next year, provided that the amount rolled over does not exceed the maximum amount of paid sick time provided under the PSDA. While employers can prohibit employees from rolling over their accrued but unused paid sick time, they are only permitted to do so if they grant employees the maximum amount of paid sick time at the beginning of each calendar year.
Importantly, employers are not required to pay employees for accrued, unused sick time under the PSDA. However, like all benefits and leave policies, this should be explicitly spelled out in the employer's policy.
Pittsburgh employees may use paid sick time for their own or a family member's illness, injury, or medical treatment, including preventive and mental health care. A "family member" is defined very broadly under the PSDA, and includes, by way of example only, grandchildren, grandparents, domestic partners, children of a domestic partner, or "any individual for whom the employee has received oral permission from the employer to care for at the time of the employee's request to make use of sick time." Employees may also use paid sick leave if a public health official declares a public health emergency.
Like the Family and Medical Leave Act ("FMLA"), under the PSDA employers may require employees to provide reasonable advance notice, but not more than seven calendar days, for foreseeable sick time, such as a scheduled medical appointment. Also like the FMLA, employers may request employees make every effort to schedule their routine medical appointments to minimize interference with business operations. However, if the leave is unforeseeable, employers may only require notification as soon as practical. Notably, the PSDA prohibits employers from requiring their employees to submit medical documentation of any illness for which they use paid sick time, unless the employee uses three or more consecutive days of time.
Even though employers may not prevent an employee from using accrued sick time under the PSDA, employers can discipline an employee who fails to follow the employer's notification procedure.
The PSDA also contains protections for employees who utilize or attempt to utilize paid sick time. Specifically, the PSDA prohibits employers from interfering with, restraining, or denying "the exercise of, or the attempt to exercise, any right protected under the PSDA." Employers are also prohibited from discriminating or retaliating against any employee because the employee has exercised rights protected by the PSDA, including:
The right to use sick time.
The right to file a complaint with a court or the City Controller alleging a violation of the PSDA.
The right to inform any person about any employer's alleged violations of the PSDA.
The right to inform any person of his or her potential rights under the PSDA.
Each violation is subject to a $100 fine.
Remarkably, the PSDA explicitly states that there is a rebuttable presumption of retaliation against any employer whenever that employer takes adverse action against an employee within 90 days of when that employee engages in any act in 2-4 above, cooperates with any investigation into any potential violation of the PSDA, or opposes any policy, practice, or act that is unlawful under the PSDA. While rebuttable, this presumption should serve as a caution to employers when considering any potentially adverse action against any Pittsburgh employee who has engaged in any activity protected by the PSDA.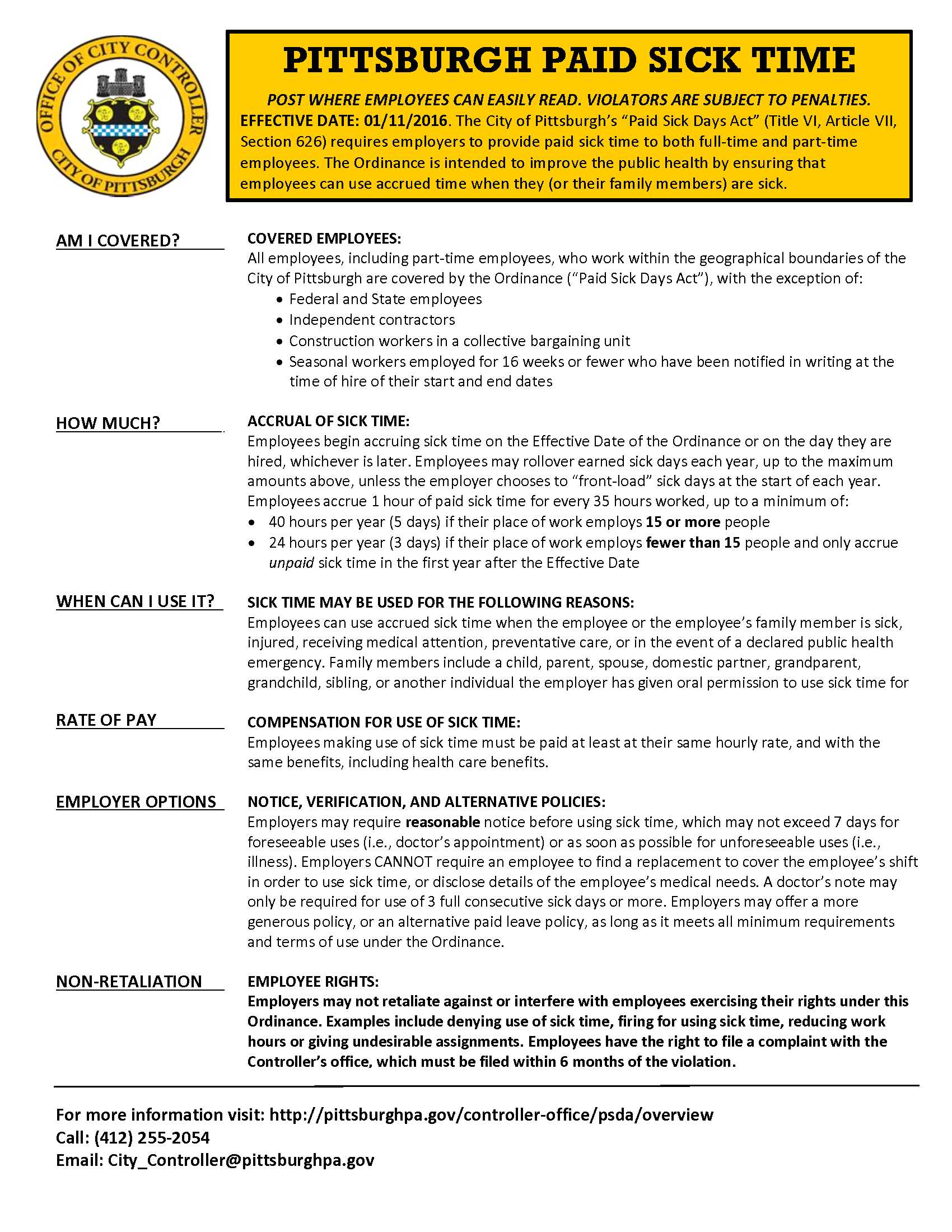 The PSDA further requires Pittsburgh employers to notify their employees of their rights under the PSDA. The City Controller has published a notice that must be posted by all Pittsburgh employers outlining these protections. The original version of which is available here. Failure to post the required notice will result in a $100 fine for each violation. Also, if an employer employs individuals for whom English is not their first language, the notice must be translated to the other applicable languages and posted.
Lastly, Pittsburgh employers must track all employees' time through the employer's time tracking process, including hours and days worked, accrued sick hours, and used sick hours. Employers must keep those records for at least two years and are subject to review by the City Controller. Failure to maintain these records may subject an employer to fines and a finding that the employer was not complying with the PSDA.
Accordingly, and even though the PSDA will not be effective for another three months, employers with any employees in Pittsburgh should start preparing now for the March 15, 2020 effective date and start reviewing existing policies and record keeping systems now to determine whether they comply with the PSDA.